Soft-Loop Handle Bags by Polynova Plastic Manufacturing Company
Polynova has been offering soft-loop handle bags as an alternative to die-cut handle bags. Soft loop handle bags are gaining renewed popularity as environmental concerns become increasingly important to both customers and companies alike.
The soft-loop handle bags offered by Polynova are custom designed and manufactured. Give us your specification and requirements and we custom configure your bag no matter what size, shape or special property you require. We use a variety of HDPE or LDPE combination as a film material for the shopping bags. The most popular choice among our customers is custom engineered woven or non-woven plastic film that offers high durability and puncture resistance.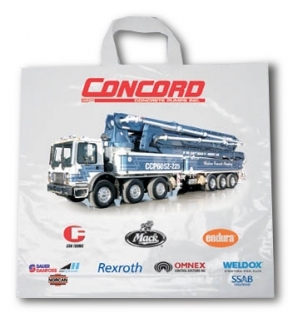 Polynova soft-loop handle shopping bags
Can hold as much as up to 20 pounds / 10 kg
Softloop handles come in a variety of forms: rope; clipped loop or strap
Gusseted and square bottom for bulky load
Rotogravure quality spectacular color intensity printing to outshine your competition
Biodegradable and starch based poly film for minimal carbon footprint.
Contact our sales team to discuss the specification of your soft-loop shopping bag.